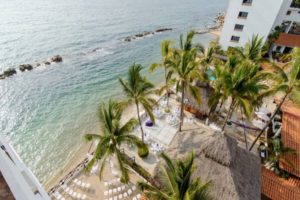 Puerto Vallarta Icon Invests over 1 Million USD in Updates and Redesigns
New York, NY. February 08, 2018.- Puerto Vallarta's Costa Sur Resort & Spa enriches its inventory with 48 renovated suites as of the beginning of this year; the investment follows the successful introduction of the first 12 Honeymoon Ocean-Front Suites in February 2015 as part of its LGBTQ and adults-only floor option. Costa Sur Resort and Spa now has 60 renovated Ocean-Front Suites.

Three floors of the hotels North Tower have been re-envisioned with 36 unites becoming Deluxe Studios with all the amenities of a Honeymoon Suite and are available for families traveling with children. One additional floor with 12 Honeymoon Suites has also been added to the inventory. All remodeled suites, Deluxe and Honeymoon, have been luxuriously detailed with touches of natural stones, modern furniture, spotlighting and chromotherapy techniques. The suites are also equipped with a granite surfaced kitchenette with stainless steel appliances, free Wi-Fi, and an oversized Smart television with access to YouTube and Netflix.

All Costa Sur's Suites are oceanfront with an outside terrace providing a unique experience and view of the entire Bay of Banderas.

Costa Sur Resort & Spa is a staple of the Puerto Vallarta hotel scene. The property is located on a private beach with a crystal-clear swimming lagoon only 7 minutes away from Puerto Vallarta's historic center and gayborhood, the Romantic Zone.

A popular family hotel, Costa Sur is also one of the leading LGBT wedding hotels in Puerto Vallarta, Mexico's leading LGBT international destination.
For high def. photos of the hotel, please click here.
Press contact: sara@enroutecommunications.com