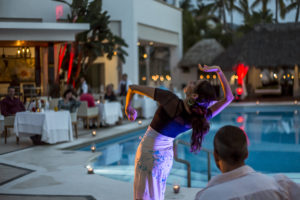 Themed nights provide multi-sensory experiences, the cuisines of contemporary Mexico and the local touch of Puerto Vallarta.
Puerto Vallarta's Villa Premiere Boutique Hotel & Romantic Getaway boosts of the destination's leading culinary offerings with its Exquisite All-Inclusive Gourmet Plan, and has now expanded its gastronomy experience to a full multi-sensory experience built around Mexican contemporary culture and Puerto Vallarta history in carefully crafted themed nights.

Three nights a week, the hotel's dining area turns into one of three different themes: Roots of Mexico, Flamenco Night & Barefoot Party.

Roots of Mexico: During this dinner, dinners will take a trip through contemporary Mexican culture, through music and gastronomy, while enjoying typical dishes from various regions of the country.
Flamenco Night: A wonderful evening where musicians, dancers and Spanish cuisine merge into a unique and unmatched masterpiece. Where dinners can enjoy an outdoor dinner, where the pool becomes a restaurant under the stars, achieving a sophisticated concept, with a chic and romantic atmosphere; A very relaxed atmosphere full of details that make the dinner a unique experience.

Barefoot Party: It is an event on the beach, where the casual style of a summer party will transport dinners to a relaxed atmosphere where they can enjoy the sound of the waves, a tropical menu enlivened by the cheerful rhythms of reggae crowned by candlelight.
Themed dinners are available for All Inclusive guests at no extra cost. For guests under European Plan, the whole treat is available at 48.00 USD per person (drinks are charged separately, taxes and service included).
Puerto Vallarta's Villa Premiere Boutique Hotel & Romantic Getaway is the ideal place to rest. From the moment guests arrive, they are welcomed with a glass of sparkling wine and a 5-minute relaxing massage before heading to their suite with spectacular views of the beautiful Banderas Bay.

Unlike any all-inclusive resort, Villa Premiere Boutique Hotel & Romantic Getaway features the "Exquisite All-inclusive Gourmet" plan. An unparalleled culinary experience that guarantees unlimited access to its three exceptional on-demand restaurants, premium drinks, 24-hour room service, a mini-bar in the room and the opportunity to enjoy theme nights with thematic dinners outdoors. All to guarantee an unforgettable evening.